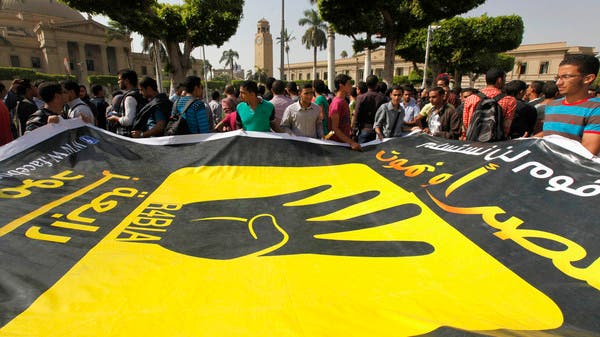 Cairo university students and members of the Muslim Brotherhood carry a banner with the four-fingered symbol of Rabaa, representing the six-week sit-in in Cairo that was disbanded by the military on August 14. (Reuters)
Friday, 11 October 2013
Police fired tear gas to break up clashes between opponents and supporters of ousted Islamist President Mohammed Mursi in the Egyptian coastal city of Alexandria on Friday, Reuters reported security sources as saying.
Since the overthrow of Mursi by mass protests on July 3, Egypt has been gripped by turmoil. Muslim Brotherhood supporters calling for Mursi's reinstatement worked to organize almost daily protests in the streets.
Meanwhile, an Islamist alliance urged its supporters to stay away from Cairo's Tahrir Square during protests Friday to avoid more bloodshed after a week in which nearly 80 Egyptians were killed.
The alliance, which demands bringing Mursi back to power, called "for marchers to evade places of bloodshed, be it Tahrir or other squares," Agence France-Presse quoted its statement as saying.
The alliance said its appeal follows calls made by several intellectuals and political forces as marches to the iconic square "will lead to more bloodshed."
The alliance had repeatedly called on its supporters to march on Friday towards Tahrir, the main symbol of the Arab Spring-inspired uprising that toppled former strongman Hosni Mubarak in 2011.
"We are just limiting our marches" on Friday, the alliance said, adding it "preserves the right to protest in all squares including Tahrir, Rabaa and Nahda in the coming weeks."
Cairo's Rabaa al-Adawiya and Nahda squares were sites of a brutal crackdown by security forces on Mursi's supporters on August 14. Hundreds of people were killed in some of the worst carnage in Egypt's modern history.
Since the bloody August 14 crackdown, more than 1,000 people have been killed across Egypt, while more than 2,000, mostly Islamists, have been detained.
(With Reuters and AFP)